BIOGRAFÍA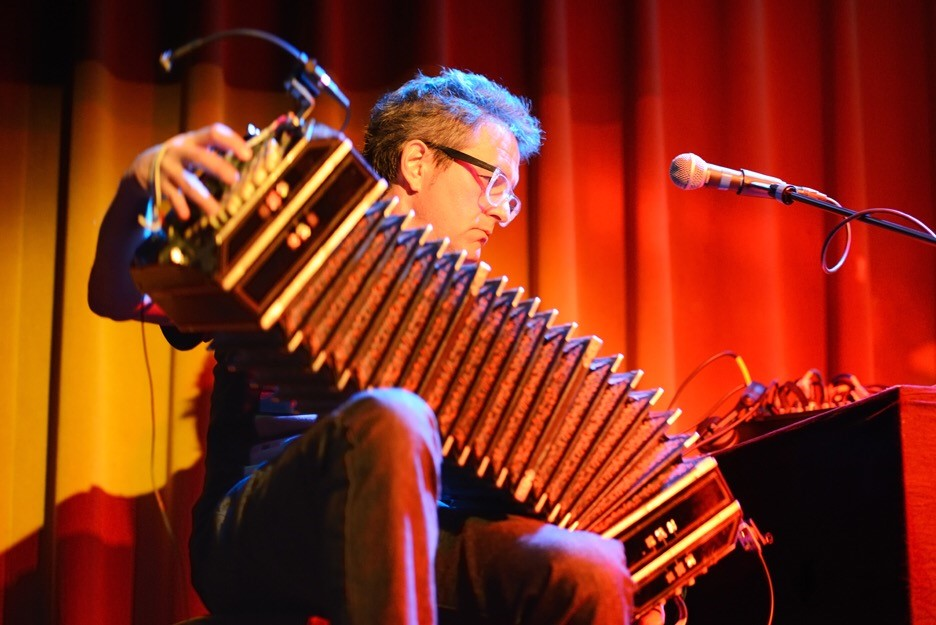 Ph: Allard Van der Hoek
Carlos Libedinsky is an Argentine musician , composer, producer and bandoneón player, based in Buenos Aires and Berlín.  
He was nominated to the "Latin Grammy Awards" in 2009 and 2010, and distinguished as "Outstandig Cultural Personality" in 2013 , by the Legislature of Buenos Aires, Argentina. 
He has consolidated, as a major reference of the tango new musical and culture expresion, performing in the most important halls, theaters and festivals of America and Europe, in 30 international tours since 2004 , like LINCOLN CENTER (New York) , SALA PALATULUI  ( Bucharest ), CANECAO ( Rio de Janeiro ), TEATRO BOLIVAR ( Quito ), PARADISO (Amsterdam) , PALAZZO DUCALE ( Genova ), MANDARIN CLUB (Hamburgo) TEATRO VICTORIA EUGENIA ( San Sebastián ), TEATRO INDEPENDENCIA (Mendoza) , RADIO RAM  (Wroclaw) Teatro LEON DE GRIEFF ( Bogotá ), VASA TEATERN ( Estocolmo ), NICETO ( Buenos Aires ) Teatro COLISEO PODESTA  (La Plata), and others. 
He was part of the line up of many International  Festivals like GREEN SOUNDS  (Bucarest)  BRASOV JAZZ FESTIVAL (Brasov)) , GRANT PARK SUMMER FEST (Chicago)  CROSS CULTURE FEST (Varsovia) ETHNO JAZZ FEST ( Wroclaw )  CULTURA NOVA ( Herleen),  FESTIVAL de TANGO de BUENOS . 
With Narcotango, Has released 5 cds : "NARCOTANGO" ( 2003 ), "NARCOTANGO 2" ( 2006) , NARCOTANGO en Vivo  (2008 ) LIMANUEVA ( 2010 ), CUENCO (2013)  y un DVD 'EN VIVO'' ( 2008, recorded at Teatro Bolivar de la ciudad de Quito, Ecuador ). Label :Tademus Producciones  
After his worldwide  successful contemporary group NARCOTANGO, Carlos Libedinsky introduces his project #FUEYE where his Bandoneon dives into South American rhythms,  creating a deep landscape of electronic beats , vocals, and global instruments, bringing a unique sound and flavor. 
Albuem recorded: #FUEYE  
In 2018, he moved to BERLIN where developes new global Projects which includes musicians from all around the globe, like the GeomeTRIO with the Iranian fretless guitar player Mahan Mirarab and the German frame drum player Nora Thiele. The other project he is developing is the MAGIC SIGNS ORCHESTRA which will  Open the next "ContemporaryTango Festival" at the Berlin Central Station, in August 22, 2019. 
-Web Site:  www.carloslibedinsky.com.ar 
-Email: carloslibedinsky@gmail.com